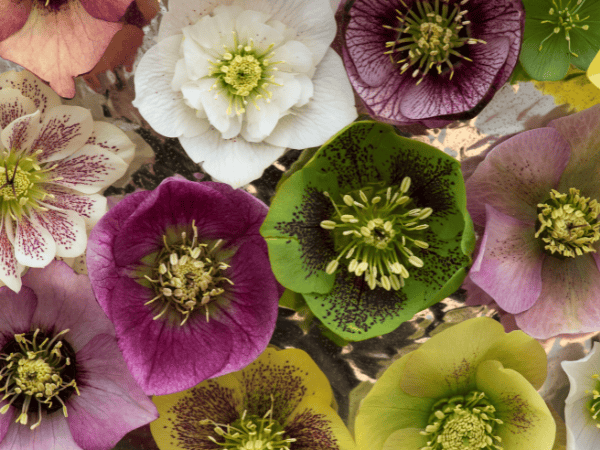 Spring Hellebores
If you have shade gardens & you don't yet have any Hellebores in your beds, you really should come in & take a look at these beautiful perennials; no shade garden should be without them! Until you have planted these stunning beauties, you may not realize how much colour & interest they provide each year to your gardens. Before the snow has even started to melt, many varieties are hard at work underneath the snow starting to bud & flower.
Hellebores (Helleborus) are also known by a few different common names including Lenten Rose & Christmas Rose. Although the flowers of Hellebore may resemble the flowers of wild roses, they are not related to the rose. The foliage of the hellebore is tough & leathery in appearance, & blooms vary greatly from variety to variety. The colours of the flowers can appear a little unusual compared to other flowers, however they are very unique! A mature Hellebore plant can be literally covered in flowers for weeks & weeks on end each spring, & there really is no other spring bloomer that will last as long the Hellebores!
In general, Hellebores prefer moist but well drained partly shaded areas where they can exist for many many years happily. Mulching them will help to retain moisture around the plant, which is especially important in the summer months.
Spring is a great time to also clean up some of the older foliage, cut back any leaves that have become weathered over the winter months. The size of the plant will depend a little on the variety, but expect from 8-24″ height & at least a 24″ spread.
Back to Garden Centre Articles