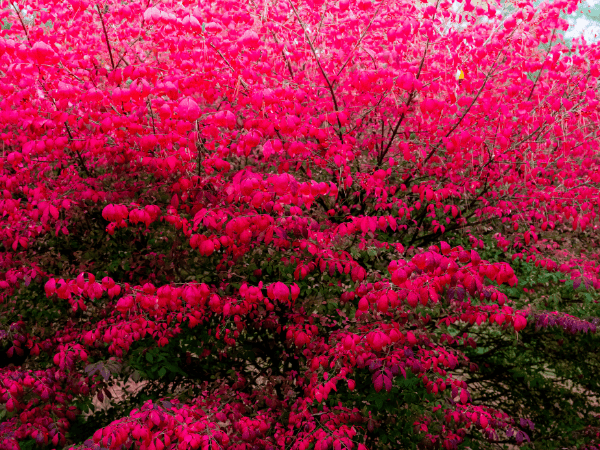 Plants for Fall Colour
Trees & Shrubs for Fall Colour
How about adding some new plants for fall colour to your garden. Often the fall season gets over looked when we are planning our gardens. So much of our attention is on the flowers of spring and summer. Mums are not the only way to add great fall colour to your garden. There are lots of trees and shrubs that can add that warm fall colouring too.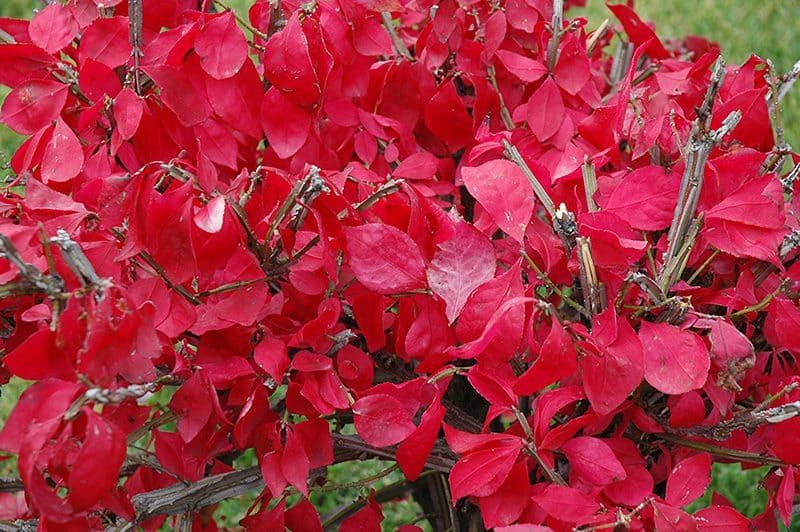 Dwarf Burning Bush
There are few shrubs that can compare to burning bush for adding fall colour to the landscape.  Its dark green leaves take on the most brilliant scarlet colour in late fall.  Dwarf Burning Bush is a small deciduous shrub that grows compactly and makes a sensational accent in the late-season landscape.  Burning Bush are very easy to grow – all they need is a sunny spot with well-drained soil. Grows 1.5m high & wide.
Ivory Halo Dogwood
Here we have a shrub for all seasons.  From spring the fall, this shrub has brightly variegated silver-edged leaves that will brighten any garden space.  As the leaves fade and fall, bright red stems are revealed which provide excellent contrast all winter. Ivory Halo is a compact selection that does well in both sun or shade.  (1.5m high & wide).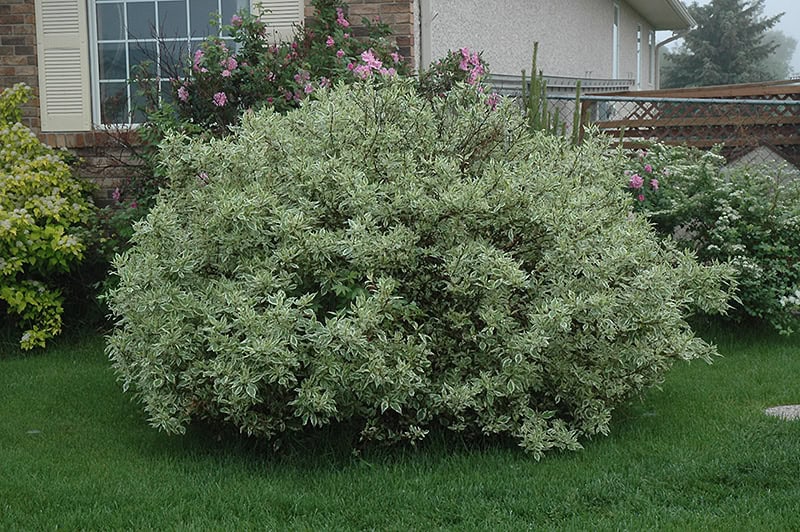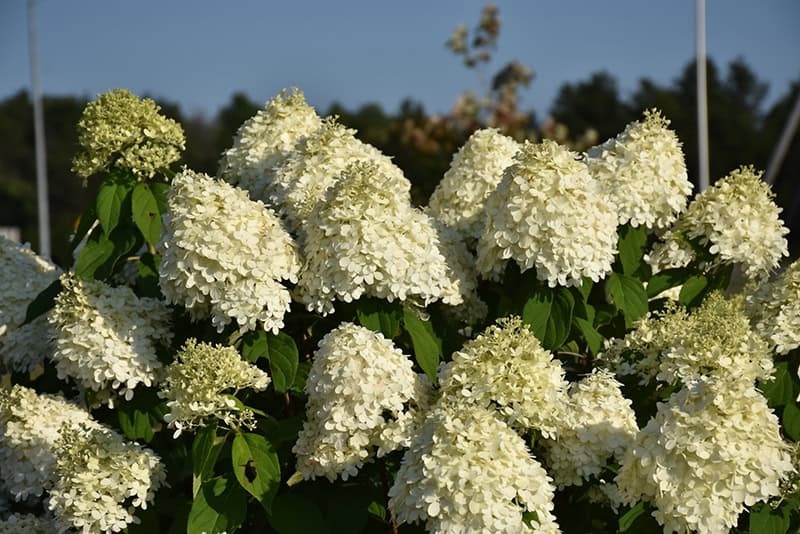 Limelight Hydrangea
Every garden needs a few hydrangeas and Limelight is one of the very best.  A late-blooming variety with bright white flowers with a lime-green tinge that changes to shades of pink in fall. Limelight is a vigorous shrub with strong sturdy stems that hold the flowers upright.  Prefers full sun to light shade.  Grows 2.5 m high & wide.
Sweetspire Little Henry
This is a shrub that often goes unnoticed for much of the year but deserves more recognition.  Sweetspire is native which puts on a show of fragrant white blooms in early summer.  In fall, the leaves turn a brilliant scarlet red.  Little Henry Sweetspire is a dwarf variety that grows approximately 1 metre high and wide.  Does best in moist well-drained soils but can tolerate even wet conditions in full sun to full shade.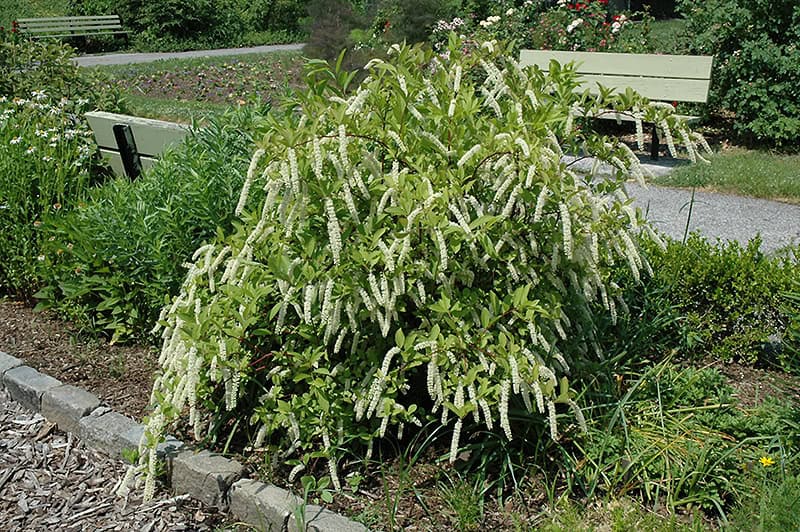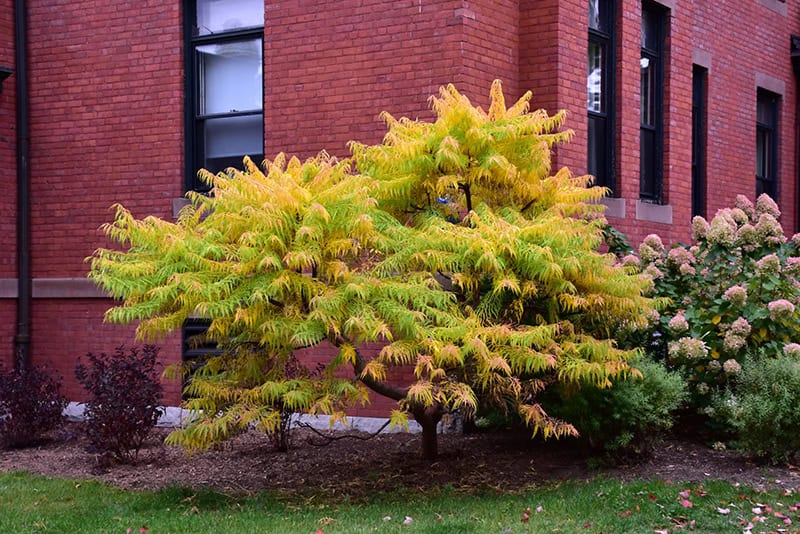 Sumac Tiger Eyes
What a great plant for year-round colour, texture and interest.  Tiger Eye Sumac has deeply cut leaves, chartreuse in colour turning yellow in summer.  As fall approaches the foliage changes to an amazing mixture of gold, orange and scarlet.  This variety grows eventually to 2m high and wide.  Like other Sumac, Tiger Eye does spread by sending out root suckers. So you may need to cut these volunteers back if you wish to keep this plant in a confined space.  Slow spreading. Full sun to part shade.  Zone 5
Englemann Ivy
Vines are very versatile plants that are used everywhere in our landscapes.  Among them, Englemann Ivy is one of the best.  This hardy adaptable vine can handle the harshest conditions. Englemann Ivy can handle full sun to full shade. An excellent climbing vine that will attach itself to nearly any surface.   Perfect for growing up sides of houses, along fences, over arbours and up trees.  Foliage is a rich deep green in summer turning red to purple in fall. Grows 15m high.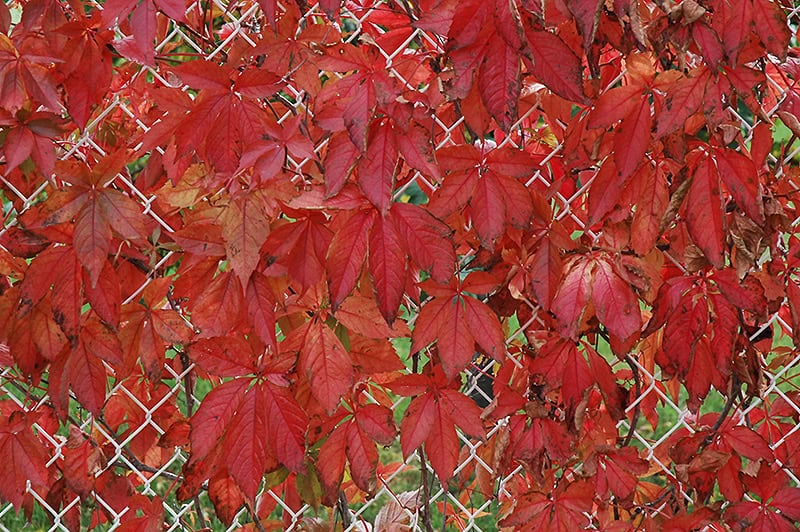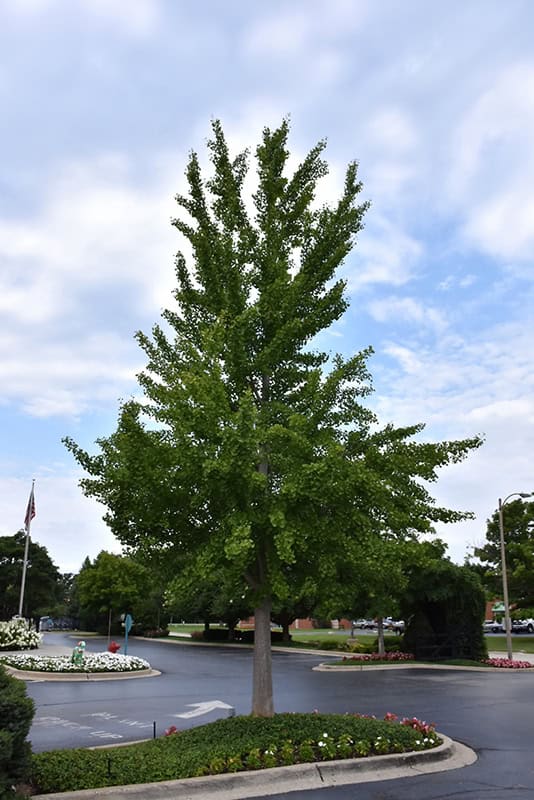 Ginkgo Tree
Here is a tree that has stood the test of time. Ginkgo is an ancient tree known for its resistance to disease and insect pests. Ginkgoes are very adaptable to adverse growing conditions and can tolerate just about any soil but are constantly wet.  During the spring and summer, the tree has a very unique green fan-shaped leaf. In fall these leaves turn the purest yellow. Then within a day or so, all the leaves seem to fall in unison. Ginkgo is relatively slow growing but patience is rewarded as the tree takes on a beautiful size and shape. It eventually can reach a height of 15 metres and a width of 6 metres.
Sugar Maple
When one thinks of trees with colourful fall foliage, Sugar Maple has to be at the top of the list. Here in Ontario, sugar maples make up a large part of our native forest. It is these trees that turn those amazing shades of yellow, orange and red in the fall.  Sugar maples are also known as hard maple which references their strong and durable wood. Being a hardwood, they tend to have a slower growth rate than other trees but over time they can reach 20m high, and 12m wide.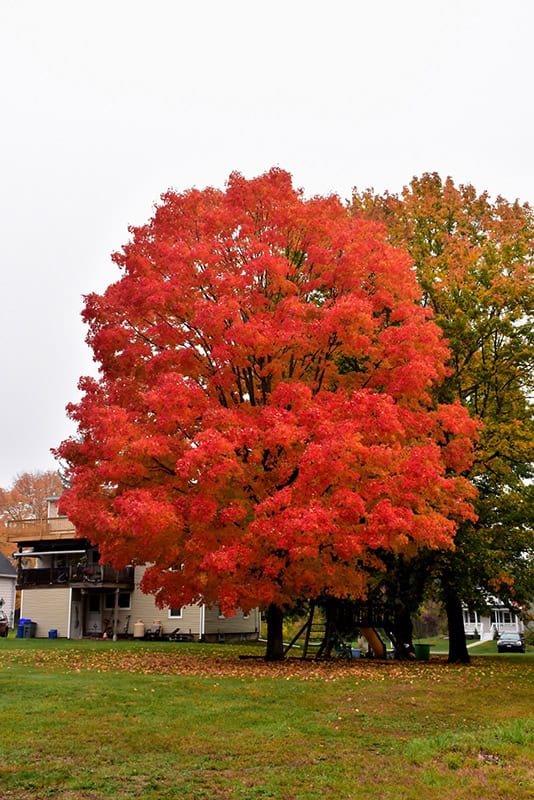 Back to Garden Centre Articles