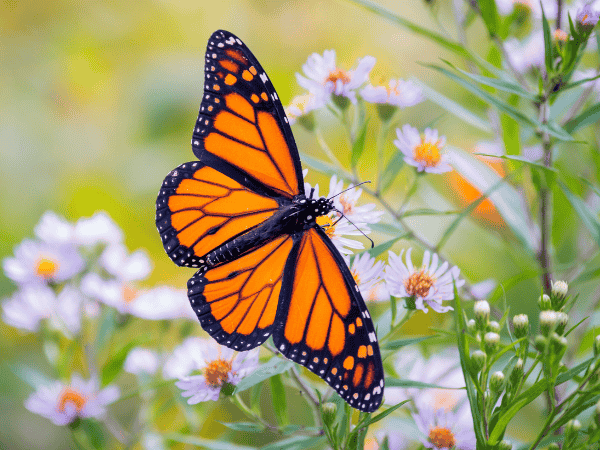 Gardening for Butterflies
Canadians love butterflies! Not only do we fill our gardens with plants for butterflies but our parks and public spaces are bursting with plants that attract, host and feed butterflies. Summer is the perfect time to plant to invite butterflies into the garden. When doing so, keep in mind that butterflies need plants for shelter, for laying eggs (host plants) and for food. The following combines these 3 types of plants into a helpful list of trees, shrubs, perennials and annuals to attract butterflies to your garden.
Trees
There are a few trees that feed butterflies, but most act as hosts or shelters. Either way, the following trees will attract butterflies to your yard. Black Locust trees (like Purple Robe), Black Cherry trees, Willows, Eastern Redbuds, Flowering Dogwoods, River Birch and Sugar Maple.
Shrubs
There are many shrubs that attract butterflies. The most obvious is, of course, the Butterfly Bush! With a name like that, there's no question that it will attract butterflies to the garden. But there are many other shrubs that will also do the job. Some of these include Sweetspire, Summersweet, Privet, Viburnum and Spirea.
Vines
If you have a fence or wall to cover and want your vine to double as a butterfly magnet you have a few choices. There are a few climbing vines that will bring butterflies to your garden too. A few examples are passion flower vine (an ANNUAL), Hops, Dutchman's Pipe, Trumpet Vine and Wisteria.
Perennials
There are so many perennials that attract butterflies, it's impossible to even list half of them. Each colour perennial table at Canadale is bursting with plants that will do the job! A few favourites include Milkweed and Butterfly Weed, Coneflower, Black Eyed Susan, Joe Pye Weed, Hollyhock, Iceplant, Shasta Daisy, Phlox, Salvia, Goats Beard, Bee Balm, Daylilies, Delphinium, Dianthus, Lavender, Liatris, Scabiosa, Stonecrop, Lupines and Yarrow.
Annuals
Annuals may only last one growing season, but the colour they provide is worth it! Especially if they also attract butterflies. A few annuals that attract butterflies are Marigolds, Zinnia, Aster, Cosmos, Snapdragons, Sunflowers, Pentas, Lantana, Alyssum and Verbena.
Herbs & Veggies
You might not expect that herbs and vegetables could also act as butterfly magnets. But there are some that do a very good job of attracting butterflies. These include Dill, Sage, Thyme, Peas, Legumes, Calendula, Fennel, Nasturtium, Oregano and Borage.
Other Garden Accents
Consider adding a flat rock to your butterfly garden as well! Butterflies need a warm body temperature to fly and can often be found sunning themselves. Providing a flat rock as a warm sunning area will encourage butterflies to spend more time in your garden. As well, a saucer or birdbath filled with fresh water.
Back to Garden Centre Articles