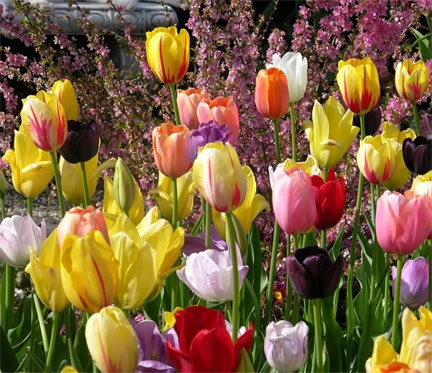 Fall Bulbs: It's Time to Plant!
Fall Bulbs
Fall bulbs are finally here…or should we say spring flowering bulbs? No matter what you call them, now is the time to start improving your spring garden by planting a few fall bulbs now.  Read on to learn about the different types of fall bulbs, how to plant them and how to protect them from pesky pests!
There are many types and species of fall bulbs. There are different colours, heights and flowering times. So the first question to ask yourself is, what colour do you prefer? When do you want the flowers to be blooming? Where do you want the flowers to go – are they at the front of a garden or behind other plants? Is there a particular flower shape that appeals to you? All of these considerations will help you create the look you want using fall bulbs.
First, there are a few different types/species of fall bulbs available: Tulips, Daffodils/Narcissus, Crocus (spring flowering), Allium, and Hyacinths are the main types. As always, there are some minor fall bulbs as well: Scilla (bluebells), Leucojum (summer snowflake), Eremurus (foxtail lily), Anemone, Muscari (grape hyacinth) and Fritillari (just to name a few). All of these flowers have different colours, times and heights, so planning your design before you plant is helpful.
Tulips
Within the Tulipa genus, there are many varieties, colours (ranging from white to pink, yellow and even blue), heights and even flowering times. The most common tulips for mass plantings normally are Triumph, Darwin Hybrid, Single Early and Landscape types. The other types of Tulips (Doubles, Botanical, Kaufmanniana, Parrot, etc.) are usually novelty or special interest types.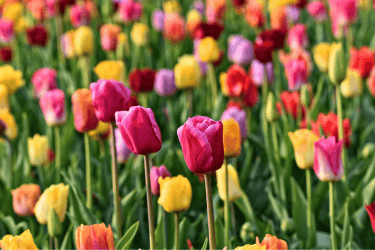 Tulips: Flowering Times and Heights
| | | | |
| --- | --- | --- | --- |
| Mid-Spring Flowering(April – May) | Height cm (") | Late-Spring Flowering(May) | Height cm (") |
| Landscape | 50-70 (20″- 28″) | Lily Flowering | 40-60 (16″-22″) |
| Single Early | 30-50 (12″-20″) | Single Late | 50-70 (20″-28″) |
| Double Early | 25-30 (10″-12″) | Giant Single Late | 70-75 (28″-30″) |
| Triumph | 20-60 (8″-22″) | Double Peony | 45-60 (16″-24″) |
| Botanical | 10-25 (4″-10″) | Parrot | 35-70 (14″-28″) |
| Kaufmanniana | 20-25 (8″-10″) | Darwin Hybrid | 45-70 (18″-28″) |
| Greigii | 20-50 (8″-20″) | Fringed | 45-70 (18″-28″) |
| Multiflowering | 35-50 (12″-20″) | | |
| Fosteriana | 35-45 (14″-18″) | | |
Daffodils and Narcissus
Daffodils and narcissus are a bright cheerful welcome of warmer weather. They come in hues of yellow, white and even pink. These types usually flower at about the same time, typically in mid-spring (April-May). The difference between the types is height and colour combinations.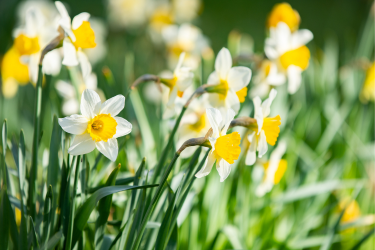 Daffodil/Narcissus: Heights
| | |
| --- | --- |
| Type of Daffodil/Narcissus | Height cm (") |
| Trumpet | 35-50 (14″-20″) |
| Double | 35-40 (14″-16″) |
| Cupped | 35-45 (14″-18″) |
| Split Corona | 35-50 (14″-20″) |
| Poetaz | 35-40 (14″-16″) |
| Rock Garden | 20-40 (8″-16″) |
| Dwarf | 15-25 (6″-10″) |
| Miniature | 10-25 (4″-10″) |
| Novelty | 40-45 (16″-18″) |
Spring Flowering Crocus
Spring flowering crocus is always one of the first signs of spring as they mostly flower in early spring, sometimes even through the snow.  Spring flowering crocus/snow crocus come in colours from white to purple, yellow and mixtures of those.  They are fairly small in size, not normally reaching more than 4″ tall.  They are also great for naturalizing, which means spreading or multiplying on their own.  They are quite stunning when they are planted in a lawn area.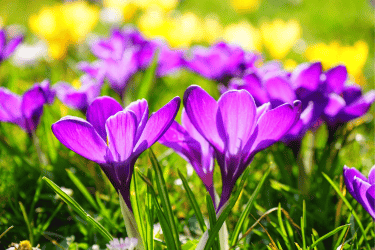 Alliums 
Most Allium flower later on, in the summer months, making it a great way to extend the season of colour. They vary in size from 10-120 centimetres tall (4″-48″) and can have very large flowering heads. They range in colour from white to purple, even blue. Alliums are great at the back of the garden for the taller types, planting in containers and being used for cut flowers.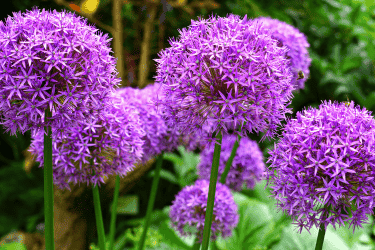 Hyacinth
Hyacinths flower in the mid-spring, which is April-May. They are normally about the same height, around 25 centimetres tall (10″).   Hyacinths also come in a variety of colours ranging from white, purple and pink and even apricot hues. Hyacinths are also very fragrant, making them a great cut flower and are very effective for forcing indoors.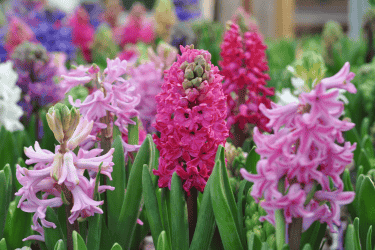 How To Plant Bulbs
Now is a perfect time to be planting fall bulbs, not to mention the great selection as they have just arrived. At Canadale Nurseries, we always have a great selection of bulbs to choose from. Planting bulbs is a very easy thing to do as long as a few steps are followed. The first step is to make sure the area where you are planting the bulbs is well-drained, as bulbs cannot stand in water. Second, when you plant the bulbs, dig a hole (using a bulb planter for ease) about 2-3 times the height of the bulb itself deep, and sprinkle a little bulb fertilizer (superphosphate) or bone meal in the hole. Plant the bulb firmly with the pointed side facing up either singly or in groups of 3-5 for a bolder effect.
Backfill with soil and rake over smoothly. Fall bulbs do not need to be watered in like other plantings because they are dormant, and they will be until warmer weather comes along. It can be just as easy as that.
How To Keep the Squirrels Away
Squirrels, as cute as they are, can be a bit of a pest concerning fall bulbs, especially with Tulips. If you've ever noticed in the spring that some tulips seem to be missing or relocated, it was probably a squirrel. The best thing to do in this situation is to use a repellent like a blood meal to deter the squirrels. Bloodmeal is a scent-based repellent and has proven to be effective. There is also a mix of bone and blood meal that is available, making it possible to fertilize and deter pests all at once. However, Daffodils, Crocus and Hyacinths seem to remain undesired and untouched by squirrels.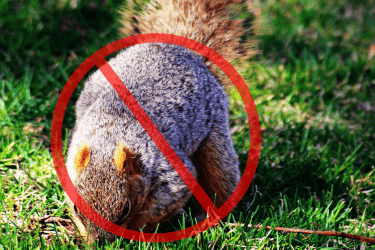 Back to Garden Centre Articles