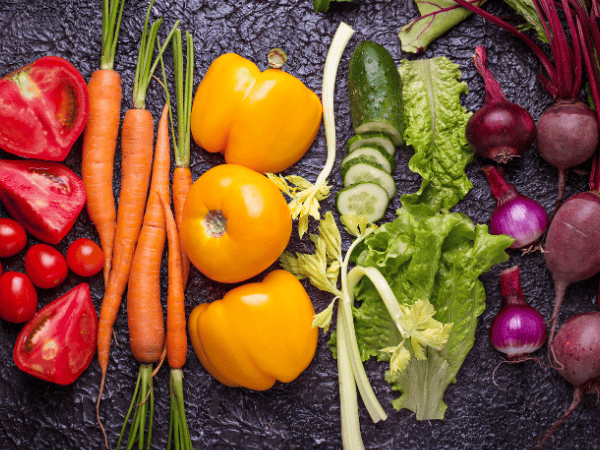 Edibles – Colourful & Fun!
Edibles are fun to grow and add interest to the ornamental garden. This is an extremely popular gardening trend for 2016. Growing vegetables and fruit in the landscape adds function, texture and beauty to your garden. But adding edibles can also be fun!
Take a look at some of the colourful, fun edibles we have available now!
Carrots – Rainbow Edibles
According to the National Garden Bureau, 2016 is officially the year of the carrot! Carrots are a very easy vegetable to grow at home in the garden or in containers. The leaves offer a lovely lacey texture that generally grows only to around a foot high, and the roots are not limited to just orange. Coming in a rainbow of colours, you can grow almost any colour carrot you want: pink, purple, yellow, red, white and black. A very attractive, versatile veggie to add to any landscape or patio pot!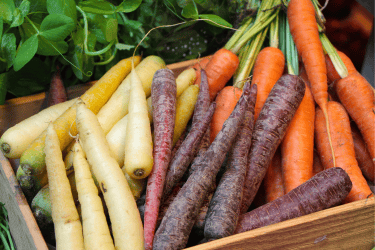 Beets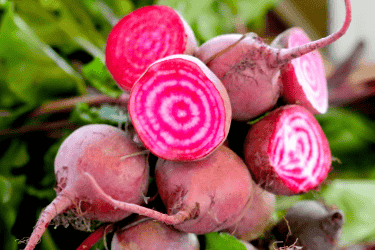 Beets have always had a reputation as being one of the healthiest foods in the world, so naturally, kids never want to eat them! Well, you can kiss this problem goodbye by choosing to grow fabulously colourful beets in your garden. Yes, the standard red beet can still be found, but today, beets also come in gold, purple, white and…RED & WHITE STRIPED! Note: Beets need more phosphorous to develop, so lay off the fertilizers with a high first number (nitrogen), or you'll get amazing greens with itty, bitty beetroots!
Lettuce & Kale – Healthy Edibles
Lettuce and Kale are cool-weather vegetables that can be planted outside right now! They are easy to grow and can be harvested all throughout the long growing season. While most people envision boring solid green leaves when they think of "salad veggies", they actually come in a variety of colours and shades. Kale is generally a green shade with blue or purple hazy undertones. And lettuce comes in every shade of green, from almost white, to dark forest green. Lots of lettuce also comes in red or purple shades. But perhaps the most fun and attractive element about lettuce and kale is the texture. From rough and wrinkly to spikey and picky to smooth and lush, you can add just about any texture to your garden you want by planting lettuce or kale.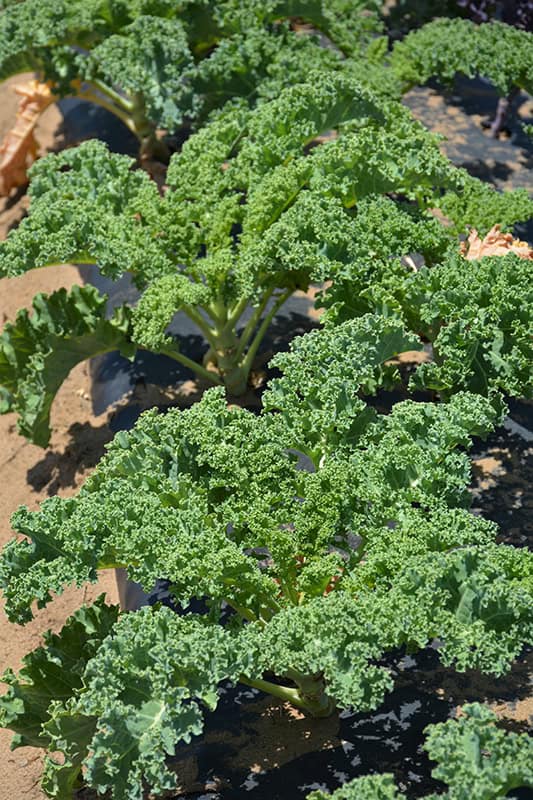 Swiss Chard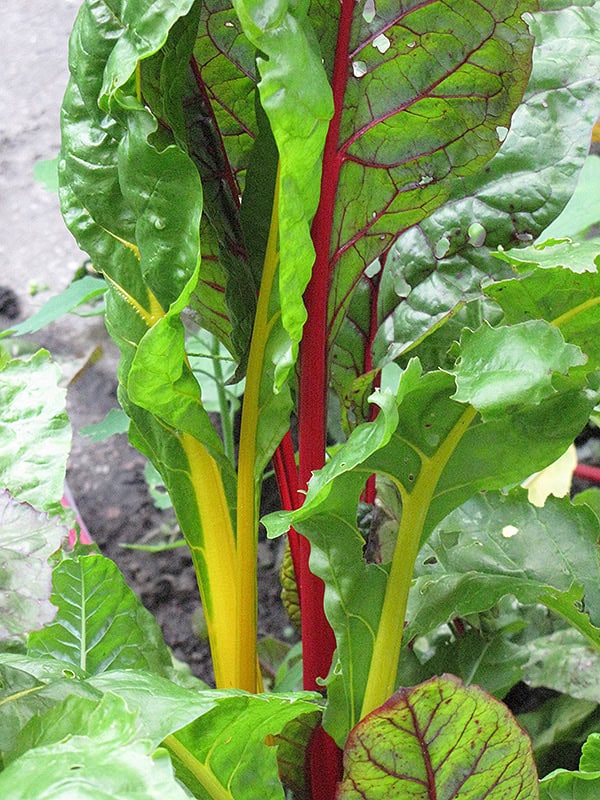 Like lettuce and kale, Swiss chard is a leafy green cool-crop vegetable that can be planted right now. It's an extremely healthy veggie that's easy to grow. While the leaves always remain green, it's the stalks of the plant that add colourful fun to the garden! The stalks have traditionally been red, with some variances like white or yellow, but today you can get a whole RAINBOW of stalk colours. This includes red, orange, yellow, purple, pink and white! Eating your GREENS just became a lot more colourful!
Radishes – Early Edibles
In my opinion, radishes are the most satisfying vegetable to grow because most varieties of radishes germinate within 3-5 days of planting! Talk about immediate gratification! Along with that, radishes generally reach maturity within 3-4 weeks of planting! When most people picture radishes, they think of small, round, red root veggies, but radishes also come in white, black, red & white, green and gold. They also come in a variety of sizes, from cute, round egg-shaped roots to long, narrow cylinders. Radishes are a quick, peppery, crispy, easy-to-grow veggie that can satisfy even the most impatient gardener!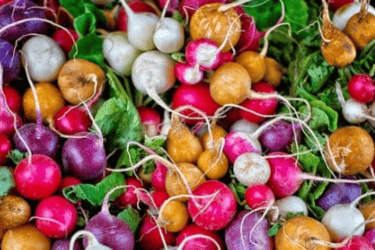 Peas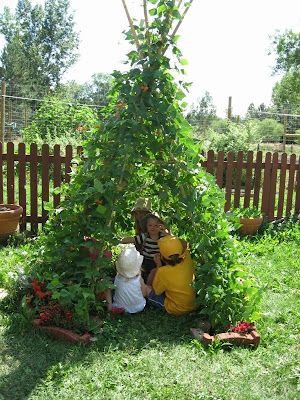 Peas are an awesome cool-crop vegetable that produces lots of sweet snappy veggies! It's true that peas are not particularly colourful – we all know they are green- but the vining varieties provide lots of fun because they can grow up any support! Have a colourful fence or trellis? They can climb up that! Or what about making a pea tent – or better yet, a pea fort!! (make a pea tent and leave one of the spaces between poles open so kids can climb in underneath the growing peas!). Peas have a limited growing season, but they can produce a LOT of veggies during that time. Harvest often for a bigger crop. Once the hot weather arrives, think about replacing peas with another veggie (like beans!).
Beans
Beans are not really a cool-crop vegetable. Bean seeds can be sown outdoors after the last spring frost. There are bean varieties that grow on a bush, but like peas, it's the vining varieties that are fun to support in creative ways! But unlike peas, beans come in more than just green! Why not try yellow beans or purple beans, or a mix of all three colours? Easy to grow and fun to twine, beans are a great replacement for pea plants once they've completed production and the warmer weather arrives!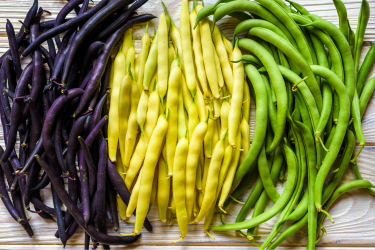 Peppers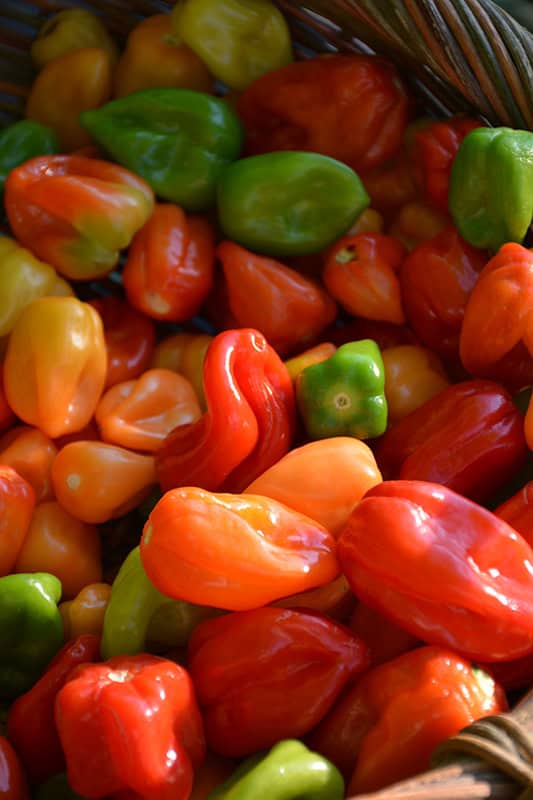 There are so many types of peppers!! Sweet, hot, spicy, large, small, round, long. And so many colours – red, orange, yellow, green, purple, black! If you only planted peppers, you could still have a rainbow in your garden! Because there are so many choices, it can sometimes take a lot of work to figure out what type of peppers will work for your garden. The good news is, whatever you choose, peppers are easy to grow in the garden and in containers. They don't like the cold, so wait for the last frost to be over before you choose your plants.
Tomatoes
There are also an overwhelming amount of choices when it comes to tomatoes! Red is certainly the standard, but they also come in orange, yellow, light and dark green, purple, pink, near black and more! Size and sweetness vary too. So if you're having trouble deciding, do some research or talk to a garden centre attendant who can help you narrow down your choices based on your needs and likes. Tomatoes are not a fan of cool weather, so like peppers, you need to wait until after the frost is done to plant them outside in the garden or in containers.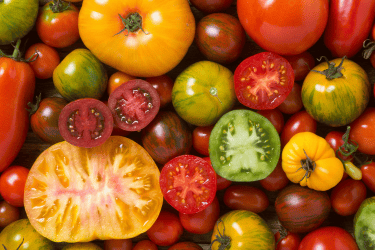 Back to Garden Centre Articles