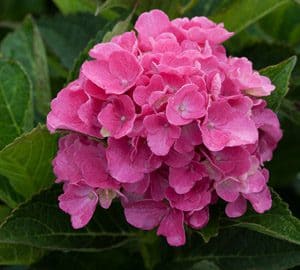 Hydrangeas
Hydrangea is a genus of long-lived flowering shrubs and climbers. They are best in rich, moist, well-drained soil. They grow well in the sun or part-shade with adequate moisture.
Smooth Hydrangea Type is the hardy American native (H. arborescens), including "Annabelle" with spectacular large white rounded flower heads in late summer in either sun or shade. If unpruned, these plants can grow quite large. However, they are usually pruned to about 30 cm in April for fewer but larger flowers.
Standout Varieties:
Annabelle: All-time favourite
Incrediball: Enormous flower heads
Invincibelle Spirit: Pink blooms
Oakleaf Hydrangea Type (H. quercifolia) is another native but from further south. Hardy enough for zone 5, it produces large white conical flower heads and displays large leathery leaves that colour red in fall.
Standout Varieties:
Alice: Large showy blooms
Snowflake: Unique double flowers
Pee Wee: Compact size suitable for smaller gardens.
Panicle Hydrangea Type (H.paniculata) is of Japanese origin but has proven very hardy in Ontario. The popular "Pee Gee" Hydrangea is available in both shrub or tree form. The large white flowers turn pink with age. Spring pruning produces the largest flowers.
Standout Varieties:
Limelight: Unique chartreuse colour
Pinky Winky: Great two-tone colour
Bobo: Very compact and long blooming.
Big Leaf Hydrangeas Type (H. macrophylla) can be of two types – lacecap or mophead. For bright blue flowers, use peat moss plus aluminum sulphate. For a stronger shade of pink or red, use horticultural lime. Use a balanced fertilizer (15-30-15) for healthier plants. Leave the spent flowers on the plant over winter as protection for the topmost buds. Mound the plants with soil 6" deep in the fall for winter protection. Cut back to the topmost pair of sprouting buds or to ground level in the spring, if necessary.
Standout Varieties:
Endless Summer: Repeat blooms
Cityline Series: Compact size, loaded with blooms
Twist 'n Shout: Repeat blooming, lace-cap type.
Climbing Hydrangea Types (H. anomala petiolaris)
Most hydrangeas are shrubs, but a climbing hydrangea (Hydrangea petiolaris) is a large vine with clusters of fluffy flowers in summer. This variety establishes slowly, so be patient. It may take a few years, but once it's ready, the vine puts on a big show. It climbs to 50 feet. Zones 4-9
Back to Garden Centre Articles